When considering starting a business overseas or establishing a new international branch for your company, the success or failure often hinges on the choice of the country.
As the pandemic begins to recede, by those seeking the next business opportunity, the search for new frontier becomes essential. For individuals in this situation, we would like to introduce the Republic of Vanuatu, a country that may not be well-known in Japan yet but has been gradually attracting the entry of foreign companies.
For this purpose, we had the opportunity to interview Mr. Chiba Hirohisa, Ambassador Extraordinary and Plenipotentiary of Japan to Vanuatu, about the unique characteristics of the Republic of Vanuatu and the entry of foreign companies into the country.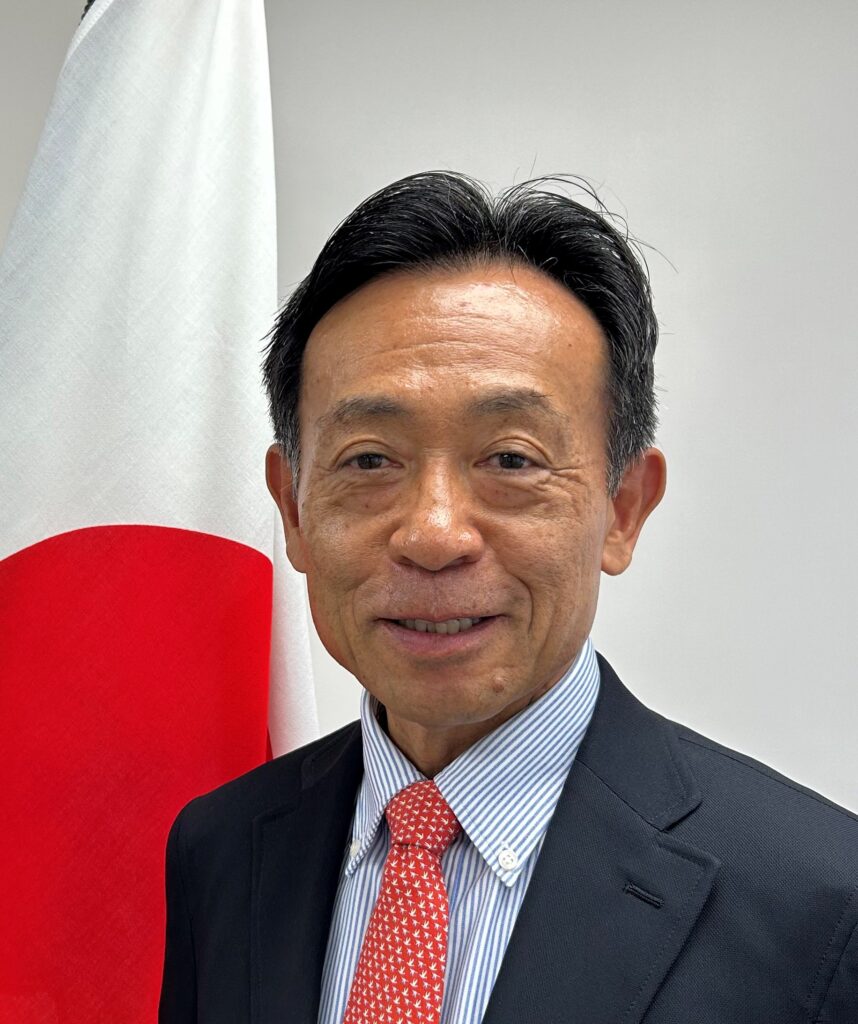 H.E. Mr. Chiba Hirohisa
Ambassador Extraordinary and Plenipotentiary of Japan to the Republic of Vanuatu
Mr. Chiba graduated from the Faculty of Law at Keio University. He joined the Ministry of Foreign Affairs of Japan in 1983 and held various positions within the ministry, including Principal Deputy-Director of the Humanitarian Assistance Division, Principal Deputy-Director of the Domestic Public Relations Division, and Senior Regional Coordinator for the Second Southeast Asia Division.
He also served in various overseas positions, including First Secretary at the Embassy of Japan in Indonesia, First Secretary at the Embassy of Japan in Singapore, Deputy Consul-General of the Consulate-General of Japan in Melbourne, Australia and Consul-General of Japan in Denpasar, Indonesia. In June 2020, he was appointed as the inaugural resident Ambassador Extraordinary and Plenipotentiary of Japan to the Republic of Vanuatu.
The Republic of Vanuatu is an island nation in the South Pacific known for its bustling tourism industry.
Sato: When we think of Vanuatu, it might be known to many investors and business leaders as one of the countries with favorable tax policies, among other things. Could you please provide an overview of what kind of country Vanuatu is?
Chiba: The Republic of Vanuatu is a small island nation in the South Pacific, comprising over 80 islands. Its capital is Port Vila, located on the island of Efate. The nation's population is approximately 320,000 people, which is relatively small, but among the many small island countries in the Pacific, it can be considered a medium-sized country. It gained independence on July 30, 1980, and this year (2023) marks the 43rd anniversary of its independence. Before gaining independence, it was jointly administered by the United Kingdom and France, so both French and English are still official languages. The national language is Bislama, a pidgin language which is mainly based on English. In addition to these, there are many local languages spoken on individual islands and areas.
The most prominent industries in Vanuatu are agriculture and tourism. There are many attractions, including beautiful coastlines in different areas, the volcano on Tanna Island, where you can get a close view of the crater, and land diving on Pentecost Island, claimed to be the inspiration for bungee jumping. Geographically, Vanuatu is relatively close to Australia and New Zealand, so large cruise ships, mainly from these two countries, frequently came to Vanuatu with many tourists on board. However, due to the global spread of the COVID-19, the Government of Vanuatu decided to close its borders in March 2020.
Sato: I remember that Vanuatu's border closure in response to the COVID-19 shock was quite swift.
Being a small country with limited healthcare infrastructure, there was a strong sense of crisis in Vanuatu that if the COVID-19 were to enter, it could have devastating consequences. Therefore, they closed the borders at a very early stage, and implemented strict border closure for almost two and a half years until it reopened in July 2023. Although the country recorded its first cases of community transmission of the virus in March 2022, the extensive distribution of vaccines to almost all the islands could prevent a large-scale outbreak. As a result, the borders were able to reopen in July of the same year.
However, the COVID-19 pandemic has had a significant impact on Vanuatu's economy, especially its primary industry, tourism. Currently, cruise ships are finally returning, and new initiatives for economic recovery, including the tourism industry, are underway.
Sato: When the primary industry of a country is tourism, the damage of its country suffered due to the COVID-19 pandemic is indeed immeasurable.
Chiba: You are right. In addition, Vanuatu is classified as the country most vulnerable to natural disasters according to the United Nations University's World Risk Report. In fact, like Japan, Vanuatu is part of the Pacific Ring of Fire, with frequent earthquakes and volcanic eruptions. Additionally, Vanuatu experiences major cyclones every few years. Most recently, in early March of this year, two significant cyclones struck many islands in succession. Fortunately, there were no reported fatalities, but there was extensive damage, including house collapses, road blockages, and damage to essential infrastructure, affecting nearly 70% of the population. Recent intensification of climate change-related disasters and rising sea levels, among other factors, make climate change the greatest security risk for island nations in the South Pacific, including Vanuatu. Besides infectious diseases, addressing these natural disasters and climate change is a crucial issue for Vanuatu.
Entering the Republic of Vanuatu for business represents a significant opportunity, but it's important to consider the risks as well.
Sato: I see. Taking into account these disaster risks, what are the business advantages when considering Vanuatu as a potential location for business expansion?
Chiba: Companies registered in Vanuatu enjoy certain tax benefits. Except for consumption tax and import duties, there is no corporate tax, income tax, capital gains tax. In this sense, conducting business activities in Vanuatu is highly favorable. Another advantage is the relatively close distance to Australia and New Zealand, which can be reached by a two-to-three-hour flights, depending on the location. You can also reach from Vanuatu to New Caledonia in about an hour and a half. Vanuatu can be an attractive location, especially for businesses that collaborate with these regions. As I mentioned earlier, the fact that English is an official language in the country is advantageous for smooth business operations.
The predominant religion in Vanuatu is Christianity. While it's important to respect religious characteristics and cultural customs and traditions of the Melanesian region, it can be said that there are no significant issues to be noted on these fronts for business. Moreover, the people of Vanuatu are gentle and very friendly. Overall, the security situation is good, while general crimes exist. Recently, the ongoing political tensions between the ruling and opposition parties have created some political instability. Nevertheless, it is fundamentally a democratic process, and there are no concerns about its impact on security in daily life. Also, the generally low labor wages can be seen as an advantage for business activities.
Sato: Indeed, with all these conditions in Vanuatu, there appear to be significant advantages in terms of business.
Chiba: However, when expanding business in Vanuatu, there are also several points to consider. For example, basic infrastructure, such as transportation and communication, is not yet fully developed, so you may experience inconveniences in these areas. The healthcare standard is also not particularly high. In the event of a serious illness, one may need to travel to Australia, New Caledonia, Singapore, or similar locations for treatment.
In the case of export businesses, such as agricultural products to Japan, stable supply can be an issue. Vanuatu's agricultural and livestock products include copra, beef, vanilla, cocoa, coffee, and more, but due to the small-scale production, it can be challenging to consistently supply the quantity required for export demand. Therefore, it is important to explore high-quality products with added value and rarity that can be accepted in the Japanese market, possibly considering the concept of discovering and developing valuable items even in small quantities. Furthermore, although Vanuatu's land area is like that of Niigata Prefecture in Japan, it is surrounded by a vast ocean. There may be significant potential for the development of marine resources, while preserving the rich marine environment.
Sato: Why is it difficult to ensure a stable supply of agricultural products?
Chiba: It may be due to factors such as business planning, capital, and climate impact, but another issue is that the infrastructure for smooth transportation of agricultural products and similar items has not yet well established, leading to increased transportation costs. For these issues, the Vanuatu Government is making efforts to improve roads and ports in regional areas. It is also not easy to develop an export industry that can meet demand with high-quality control, given the market size of the domestic industry is relatively small.
This is related to the point I mentioned earlier regarding the low labor wages, which can be an advantage for business development. But the wage gap with neighboring developed countries has encouraged the people of Vanuatu to seek seasonal work in Australia and New Zealand, which has led to a labor shortage domestically. For example, even after the end of the COVID-19 pandemic, skilled workers in the tourism industry, such as hotel employees and restaurant staff, have been slow to return, posing a challenge to the recovery of the tourism sector.
We hope for Japanese companies to enter Vanuatu, where many foreign companies have already established their presence.
Sato: Could these challenges be seen as opportunities for foreign companies to enter as businesses?
Chiba: Yes, there are challenges, but I believe there are opportunities to address them. In fact, there is a high proportion of foreign capital among all registered corporations in Vanuatu. While it's true that local entrepreneurship is still developing, most major companies, especially large ones, are foreign-owned, and many foreign managers work here. Moreover, given Vanuatu's history as a former British and French colony, it was relatively easy for capital from those countries to enter, even after independence. Currently, there is a considerable amount of capital from Australia, New Zealand, China, and others. Chinese hardware companies, construction firms, as well as financial, insurance, and telecommunications companies of Australian and English and French origin operate their businesses here.
Sato: In Vanuatu, is the percentage of Japanese companies still relatively low?
Chiba: At present, the number of Japanese companies entering Vanuatu is very limited. These include businesses in the tourism sector such as hotels and travel agencies, as well as restaurants serving Japanese cuisine, automobile dealerships, and so on. We hope to see Japanese companies enter various industries and forms in the future. In terms of exporting products to Japan, Vanuatu graduated from the list of Least Developed Countries (LDC) in December 2020, which means that Vanuatu's products such as beef and chocolate are now subject to import duties when exporting to Japan. The situation is tough for Japanese businesses involved in imports, exports, and sales, but we hope that through branding efforts, delicious Vanuatu beef, chocolate rich in Vanuatu cocoa, vanilla, fruits, and other products will continue to gain popularity in the Japanese market.
Sato: Having pioneers already succeeding in business indicates that there are ample opportunities for companies considering entry in the future.
Chiba: From my perspective, I believe Vanuatu is a country with significant potential for Japanese companies to enter. As well as agricultural, I expect that the tourism industry will continue to flourish in the future. The number of Japanese arrivals in Vanuatu was about 1,000 per year just before the COVID-19 pandemic, and this number tended to increase from one year to another. Along with this, the awareness of Vanuatu in Japan has also been gradually increasing. And, following the opening of the Japanese Embassy in Port Vila by the Japanese Government in January 2020, the Vanuatu Government is currently preparing to open a Vanuatu Embassy in Tokyo. With this background, the potential for the development of various aspects of the relationship between the two countries is expanding.
Riding this wave, I believe that in Vanuatu, which has potentially very rich tourism resources, it is possible to make new developments in the tourism field from various aspects such as ecotourism and agritourism. Additionally, in areas where Japan excels, such as IT, environmental initiatives, and addressing climate change, there is ample room for Japanese companies to enter and contribute.
New business opportunities arise from interactions between people.
Sato: Thank you for sharing your valuable insights. Could you please share a message with our readers as a final note?
Chiba: I believe that there are still very few Japanese people who immediately recognize Vanuatu as an island country in the South Pacific when they hear the name of Vanuatu. The same can be said the other way around. In other words, Vanuatu people know the name of Japan, but still understand very little about Japan, its society and culture. This is probably because, despite how advanced the internet connection is, direct people-to-people exchanges between Japan and Vanuatu are still far less than, for example, those between Southeast Asian countries and Japan. Therefore, if any of the readers of this article have developed even a slight interest in Vanuatu, I would strongly encourage you to visit the country in person and see it with your own eyes. I hope you could speak with the local people.
Although it is not limited to business, fostering relationships with the people of a country serves as a starting point for new endeavors. While Vanuatu may not have direct flights from Japan, and access may not be the easiest, if you happen to visit neighboring countries like Australia, New Zealand, Fiji, or New Caledonia, I would like to encourage you to make a detour to Vanuatu. Witnessing the reality of the country firsthand, even if it's just a brief visit, can provide valuable insights. As opportunities for exchange between nations and individuals increase to know each other, I believe new business opportunities will also naturally emerge.
(Interview, Writing, and Editing by Naoto Sato)